Shrines (Coming Soon)
Our collection of shrines will be the heart and soul of ASR, but we're still working on them! Below are the shrines we currently have plans for! I hope to fill each website with general information, episode lists, character bios, gifs, images, and where you can watch or buy the series!

Upcoming Features
Sailor Moon
Serial Experiments Lain
Pokemon
Neon Genesis: Evangelion
Ranma 1/2
Gundam Wing
Sorcerer Hunters
Those Who Hunt Elves
Yu Yu Hakusho
InuYasha
Nana
Bubblegum Crisis
Kamikaze Kaitou Jeanne
Dragon Half
DragonBall Z
Outlaw Star
Digimon
Blue Seed
Slayers
Paranoia Agent
Monster Rancher
Revolutionary Girl Utena
Trigun
Akira
Chobits
Battle Angel Alita
Wolf's Rain
Samurai Champloo
Cardcaptor Sakura
Tenchi Muyo!
Cowboy Bebop
Ghost in the Shell
Pilot Candidate
Studio Ghibli
Ah! My Goddess
Fruits Basket
Rurouni Kenshin
Vampire Princess Miyu
Magic Knight Rayearth
FLCL
Elf Princess Rain
Yu-Gi-Oh!
And Many More!!!
Damn Girl, That's a Tall Order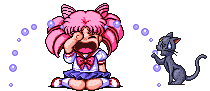 You betcha, and it sure as heck ain't happening over night. This is a slow-burn project I plan to work on on nights when I am especially missing the "old days" and on my free time. As an adult that wears many hats, I unfortuntely do not have all the time in the world. I do however, have raging insomnia. So yanno, that'll come in handy.
Regardless, I'm happy to have this nice little side project to make me busy during times in which I wish to procrastinate more important things I should be doing. Being an adults is ballz.
Thanks for being on this journey with me! Shrines to come soon!